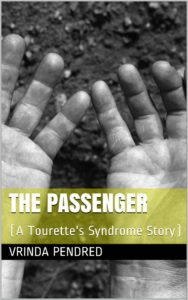 The Passenger
'…she stares out the window with a look on her face like she's afraid of what she might see, but at the same time she can't look away. That's when I notice the strange way she's moving.'
A short story about Tourette's Syndrome, inspired by the author's personal struggle with the condition.
Get your copy at Amazon: US Readers UK Readers
---
About the Author
Vrinda Pendred is a graduate of English with Creative Writing at Brunel University.  She completed work experience with Random House and proofread for Mandala Publishing.  She is married with two children and lives in Hertfordshire, England, where she does freelance editing and proofreading.  She is also a writer, and you can learn more about her personal work here.
Vrinda has five neurological conditions: Tourette's Syndrome, Obsessive-Compulsive Disorder, ADHD, High-Functioning Autism and bipolar disorder.
Of such conditions, she says: 'There really aren't enough books and websites out there preaching positivity regarding these types of conditions – nor is there enough that expresses how truly difficult it can be to live with one of them (let alone more than one, as many people do).  Yet I have heard/read so many times that people with neurological disorders are usually highly creative people (indeed, many psychiatrists believe certain nervous disorders might even be a prerequisite to being so creative) – and that art/music/writing can be incredibly therapeutic.
'This is why I wanted to start this imprint: to provide a creative outlet for people, and (hopefully) to change a few minds out there about what neurological disorders really are – including not just the limitations, pain or frustration, but also the more positive, beneficial "symptoms" of these strange conditions.'
Be sure to read her own contributions to Conditional Publications' debut release Check Mates: A Collection of Fiction, Poetry and Artwork about Obsessive-Compulsive Disorder, by People with OCD – and to read her novel The Ladder (inspired by her personal struggle with bipolar disorder), as well as her short fiction, all available for purchase from Amazon.