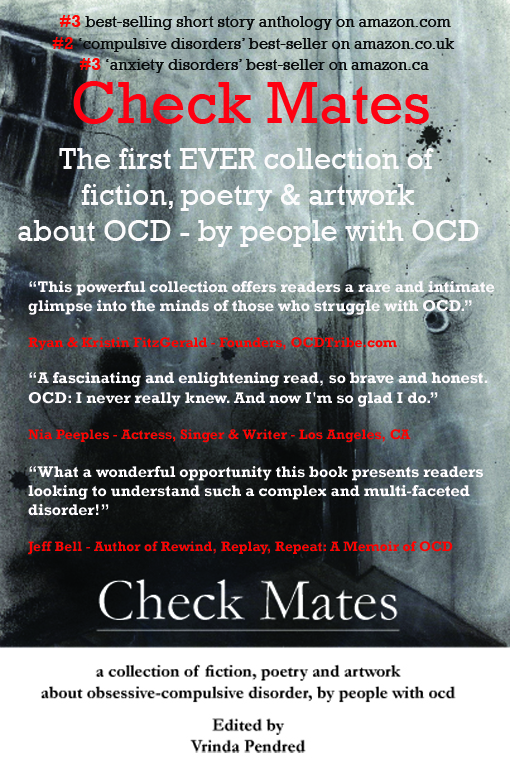 Buy the Book:
 Already got your copy?  Like the book on Facebook
---
From the Back Cover
Check Mates is an original collection of fiction and poetry written about Obsessive-Compulsive Disorder by the people who know best – Obsessive-Compulsives. Splitbetween 'realism' and stories of the 'beyond', there is a diverse range of styles and genres, and a mix of rage, frustration, tears, violence, pain, heartache, subversion, love, strength, metaphysics, philosophy, friendship, hope, and even a bit of humour. And maybe – just maybe – it will knock away a few stereotypes.
This exciting new book takes the fresh approach of fiction in order to express to the average reader what the world really looks like in the mind of an obsessive-compulsive.
It is a project conceived and developed by genuine sufferers and survivors of the condition, who met via a social networking website dedicated to OCD.
---
What Others Are Saying
A fascinating and enlightening read, so brave and honest. OCD: I never really knew. And now I'm so glad that I do. Thank you for this.
Nia Peeples – Actress, Singer & Writer – Los Angeles, CA
This powerful collection offers readers a rare and intimate glimpse into the mind of those who struggle with OCD.  We hope this book contributes to a sense of community for those in their journey with OCD, as well as help to educate those who want to better understand what it is like to live with OCD.
Ryan & Kristin FitzGerald – Founders, OCDTribe.com
For far too long, OCD has remained largely misunderstood and misrepresented around the world.  Stitched together in this collection of fiction and poetry is a literary patchwork of OCD insights, each offering the unique wisdom and intimacy of personal experience.  What a wonderful opportunity this book presents readers looking to understand such a complex and multifaceted disorder!
Jeff Bell / Author, "When in Doubt, Make Belief: An OCD-Inspired Approach to Living with Uncertainty" and "Rewind, Replay, Repeat: A Memoir of OCD"
---
Press Coverage
An extract from the short story 'The Royal Bank of Scotland' by Vrinda Barker (now Vrinda Pendred) was published in the October release of the members magazine for OCD-UK, a leading UK OCD charity.
Their web address is: http://www.ocduk.org
The book received a blurb in the Hertfordshire Comet in February 2010, and there have been several online radio interviews regarding the book.  To see the newspaper article and hear the interviews, please click the 'Media Appearances' link at the side of this page.
---
Taken from the Introduction to Check Mates
This is a collection of short fiction and poetry either about, inspired by or (in some cases) allegorical for the struggle with Obsessive-Compulsive Disorder (and sometimes some of its counterparts) – all written by people with the condition.  It is arranged into two categories, Realism and Beyond.  In addition, one story happens to be non-fiction rewritten as short fiction.  And whether solidly real or completely fictionalised, all work contained in this collection portrays the truth of the condition.
Like most other disorders, OCD is highly misunderstood by the general public and has a bad habit of being misleadingly depicted by the media.  It is a neurological condition that consists of extreme levels of anxiety over often seemingly meaningless triggers.  Superstitions, magic numbers, counting rituals, hoarding, excessive cleaning, checking things over and over, realigning things for the sake of symmetry – these are certainly all a major part of it.  But you will find (as I did, when I discovered OCD Tribe – www.ocdtribe.com) that there is so much more to it, specifically the obsessive, debilitating dark and dangerous thoughts that convince us we're about to kill someone whenever we try to use a knife to chop food for cooking, or that make us believe we want to hurt our children, or throw ourselves onto train tracks if we stand too close to the edge of the platform.  Some people are too terrified even to leave the house, their brain chemistry has them so convinced they're dangerous to society.  And when one obsession leaves, another only comes to take its place.
There are varying degrees of the condition, just as there are varying forms.  I hope this book will demonstrate that.  I also hope you will see the vast array of reactions to the disorder.  In this collection, you will find a diverse range of styles and genres, and a mix of rage, frustration, tears, violence, pain, heartache, subversion, love, strength, metaphysics, philosophy, friendship, hope, and even a bit of humour.
We have chosen the media of fiction and poetry (rather than autobiography) as a means of reaching out to a wider audience.  My wish is that, if you have OCD, you find something to relate to and be inspired by; if you have a loved one with the disorder, you may come to new ways of understanding; and if you are new to the subject, you may learn about the reality of OCD, rather than just another media stereotype.  While some authors in this collective have been published in other forms, others are new to writing, exploring its healing catharsis.  Each piece will be introduced with brief commentary from both the writer and myself [Vrinda Pendred, Editor].
Scattered throughout the book is artwork by Stephen Leaver and Richard Krecker.
---
Table of Contents
Part One: Realism
Imagine by 'Kristen'
A Cautionary Tale by Rose Gardener
A Day in the Life of…OCD by 'Heather'
The Lock by 'Kristyn'
450mg to Perfection by Steven Mojsovski
His Delicate Friend by Vrinda Pendred
Escape by Steven Mojsovski
The Key by 'Sad Clown'
Nightly Newsby 'Kristen'
The Fourth Time  by Laura Power
It Is Very Necessary by Laura Chi
Hope in Darkness by Jennifer Abrams
Something to Say by Sharon Meyer
Flowers by Laura Power
Choice by Mark W. Johnson
The Battle Within by 'Heather'
Lingering Shadows by 'Ash'
Part Two: Beyond
Judgment by Beth Barker
There Are No Monsters Under This Child's Bed by Rose Gardener
Why You Run by E. I. Muse
Indentations by Jennifer Abrams
The OCD Ogre by Rose Gardener
In a Shell by 'Sad Clown'
An OCD Fable by 'Rich Writer'
The Tale  by Ryan Arroyo
Nightmare on 'O' Street by 'Sad Clown'
The Visitors by Beth Barker
A Stone, A Field… by Steven Mojsovski
The Fear by Vrinda Pendred
Resurrection Day by E. I. Muse
Interlude by Steven Mojsovski
The Royal Bank of Scotland by Vrinda Pendred
---
Browse the Book